NICOLA DE LA HAYE
Nicola de la Haye was born between 1150 and 1156. She was the eldest daughter of
Richard de la Haye
, who died in 1169 and his wife Matilda de Verdun. I have seen Nicola's name spelled several ways: Nicola, Nicholaa, etc. Her ancestry can be traced all the way back to the Dukes of Normandy who were the ancestors of William the Conqueror. She was a remarkable woman. On the death of her father, Richard de la Haye, in or around 1169, Nicholaa, as his eldest daughter, became a wealthy heiress. She owned or controlled extensive estates in Lincolnshire, the
barony of Brattleby
, and the right to hold the office of castellan of
Lincoln Castle
. And she was also the Sheriff of
Lincolnshire
. A sheriff in those days was not a ceremonial role. She would have sworn to uphold the king's law, deliver criminals and the king's enemies to justice, supervise the royal lands in her area, requisition supplies for the king and preside over the shire courts.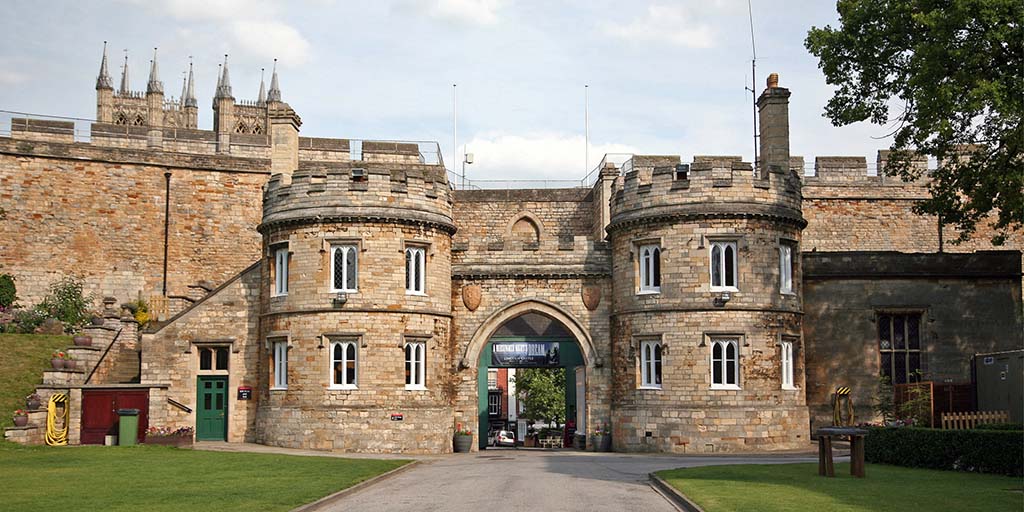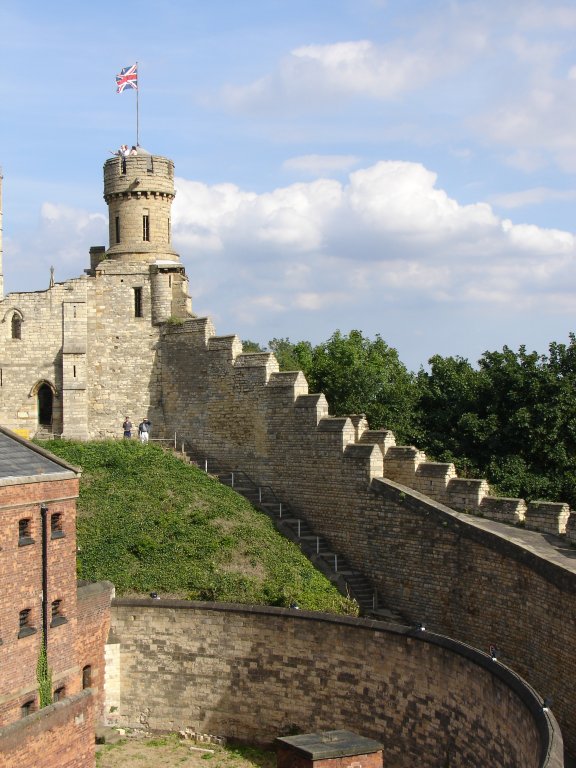 Nichola was married to
William fitz Erneis
(b.? died 1178). She then married
Gerard de Camville
sometime before 1185. He was the son of Richard de Camville. Richard was the admiral of the fleet for King
Richard I
during the Third Crusade.
Nicola de la Haye lived during a turbulent period in English history. It was during her lifetime that the barons rebelled against King John and forced him to sign the
Magna Carta
. She seems to have remained loyal to
King John
.
When her father died she inherited the office of castellan of
Lincoln Castle
. Because she was a woman, her husbands carried out the duties of the office most of the time, by her right. But there were times that she was in charge of the castle. In 1191 Prince John tried to take the throne from his brother Richard I, who was away fighting the Crusade. He took advantage of this absence and tried to set himself up as king.Her husband, Gerard de Camville was a supporter of Prince John and was at Nottingham with Prince John.
Another nobleman named William Longchamps gathered an Army to go fight Prince John's Army and he laid siege to Lincoln Castle while Nicola was in charge of it.
Nicola, in her inherited position as castellan of Lincoln Castle, had to defend Lincoln Castle against the siege raised by William Longchamps and other barons who were opposing Prince John. This was the siege that is written about showing how many men and miners were trying to take the castle. It is said that it lasted for over a month and she was up against thirty knights, twenty mounted men-at-arms, and 300 infantry. There were also forty miners who were attempting to breach the walls of the castle. the chronicler Richard of Devizes wrote that while Gerard assisted John in securing the castles of Nottingham and Tickhill, 'Nicholaa, not thinking about anything womanly, defended … [Lincoln] castle manfully' against the chancellor's forces.
When Richard returned in 1194, due to his rebellious support of Prince John, her husband, Gerard de Camville was removed from his position as Sheriff of Lincolnshire and castellan at the Castle as punishment. Gerard and Nichola had to pay large sums in order to regain their possessions. But upon the accession of King John in 1199, these positions were returned to him. Gerard died in 1215 leaving Nicola a widow. But she continued to hold the offices of castellan and Sheriff.
In 1216, Nichola prevented another siege by paying off a rebel army, led by Gilbert de Gaunt, who had occupied the city of Lincoln. For this loyalty, King John appointed her Sheriff in her own right.
In 1217, the castle was again under siege. This time the siege was led by the
Comte du Perche
who also took the City of Lincoln at that time.
King Philip II
's forces were in England trying to take the throne. They were being led by his son Louis (later
Louis VIII
).
It is said that Prince Louis went himself to ask her to surrender the castle. But she refused. So, the French sent in reinforcements. She held out against the continual bombardment of the castle walls for nearly three months from March until the middle of May.
On May 20, 1217,
William Marshall, Earl of Pembroke
and
William Longespee, Earl of Salisbury
led King Henry IIIs soldiers to Lincoln Castle and defeated the soldiers there. Thomas, the Comte du Perche, was one of the soldiers killed there. And Prince Louis had to leave the southeast of England.
The city of Lincoln itself, had supported the French army. In retaliation, the English Army sacked the city and the battle and the looting afterward became known as "Lincoln Fair". This battle turned the tide of the war in the French were forced to seek peace and return home. At this time the Magna Carta was reissued. King John's son Henry III was too young to rule so his Regents took control of the country.
Four days after the siege was raised from Lincoln Castle the position as Sheriff of Lincolnshire was taken from Nicola and given to William Longespée Earl of Salisbury who promptly took control of the city and seized the Castle.
According to Tales from the Long Twelfth Century: The Rise and Fall of the Angevin Empire, Richard Huscroft, Yale University Press, 2016, it was the Earl of Salisbury who was the uncle to the young king Henry III, who took control of the castle from Nicola. That would mean it was the elder William, because the younger would have been his first cousin and not his uncle.
Most likely she was as incensed by the affront because she traveled to court to remind King's Regents personally of her recent services and asked that her rights be returned to her. She was partially successful. The regents compromised by allowing Nicola to hold the city of Lincoln and the castle while William Longspee, Earl of Salisbury remained Sheriff of the county.
The same book says that she kept control of the castle until 1226, when she "retired on her own terms". One might suppose that she waited until then because that is the year William de Longespee, Earl of Salisbury died. But it was also at about this time that her granddaughter, Idonea de Camville was marrying the younger William de Longespee. She probably felt that she was passing the torch to the next female heir. Perhaps William and Idonea(de Camville) Longespee were a fitting match, since his mother Ela of Salisbury had been sheriff of Wiltshire.
William Longspee's son,
William II Longespee
, was married to Nichola's granddaughter Idonea. Idonea was the daughter of Nichola's eldest son Richard. When Nicola died in 1230, they inherited the de la Haye and Camville lands.At this time the Magna Carta was reissued. King John's son Henry III was too young to rule so his Regents took control of the country.
1. William Longespee (1176-1226) son of Henry II
+Ela of Salisbury, Sheriff of Wiltshire
2William de Longespee (abt 1209-1250)
+Idonea de Camville d/o Richard, grand d/o Nicola Sheriff of Lincolnshire
After her husband died, it was Nicola de la Haye who held the Castle for the King both in war and in peace. But when King John came to visit Lincoln in 1216, she went to meet him, leaving the Castle by the Eastern postern gate with its keys in her hand. She offered them to John, her Lord, humbly protesting that she was an old woman, looking after the Castle was hard work, and it caused her much anxiety. She could not do the job any longer, she went on, and anyway she had no right or claim to the position she held. John replied sweetly and softly, "my dear Nicola, it is my desire that you continue to keep the Castle, until I order otherwise." England was in turmoil, Civil War was shaking the kingdom, and John calmly put his trust in a woman to hold one of the most important castles in England. Reluctantly, perhaps Nichola did as she was instructed until the King was dead, and long after that too.
This story was the stuff of local legend. It was not recorded until nearly 60 years after it was supposed to have happened, when King John's grandson, Edward I carried out a great inquiry across England to investigate abuses in local government and the extent to which Royal rights had been lost during another Civil War, this time in the 1260s.
This inquiry is known to historians as the Hundred Rolls, because evidence was given to the Royal investigators by juries of local people from each hundred in each county, and that evidence was recorded on great parchment rolls. However, testimony was also given by juries from larger villages and towns, and one of those was the jury from Lincoln, which recounts the detail of Nicola de la Haye's meeting with King John in 1216. Accurately the jurors recalled the details of the meeting is unclear. It provides a rare example of John being pleasant, but that doesn't necessarily make it unreliable. In any event, by 1216, John and Nicola had experiences in common stretching back over twenty-five years; it is quite possible that they liked each other. Nicola died in 1230 so some of those Lincoln jurors from the 1270s may have known her in her final years; perhaps they had even heard this story from her own lips, or from someone who had been there with her. It is hard to believe, though, given that else is known about Nicola's career, that she would ever have been so meek and submissive, even before a King, as the jurors account suggests, or that she would ever have thought of giving up any fight she was in because she was too old or too tired to keep going. Her tenacity and determination were shown clearly a year after John's visit, in 1217, when the Earl of Salisbury, who was the uncle of the new boy King, Henry III, tried to take Lincoln Castle from her. Nicola's furious response was to make straight for the Royal court where she reminded her audience of all the faithful service she had given to King John and his infant son, and she obtained an order restoring the Castle to her. It remained in her custody until 1226 when she retired on her own terms.
Tales from the Long Twelfth Century: The Rise and Fall of the Angevin Empire, Richard Huscroft, Yale University Press, 2016
Isabella and Idonia apparently felt that the borough court was overreaching its authority in trying men for murder, a matter that ought to have been considered in the Royal courts and overseen by themselves as co-sheriff's. Isabella and Idonia were unable to perform the office of Sheriff when they were single or married, but her widowhood enabled them the unusual opportunity of doing so. At least two other women acted as Sheriff son 13th century England, too: Nicola de la Haye of Lincoln and Ela, widow of William Longespée, in Wiltshire. The authority exercised by Isabella, Idonia, Nicola de Le Haye, and Ela was unusual, occasioned as it was by their positions as heiresses and widows but it was significant
.
Women's Roles in the Middle Ages, Sandy Bardsley, Greenwood Publishing Group, 2007
"This Richard de Camville was also the founder of Combe Abbey in Warwickshire, and a witness to the agreement between King Stephen and the Duke of Normandy, respecting the succession to the crown of England. He died at the siege of Acon in Palestine, having accompanied King Richard the first in his expedition to the holy land. Gerard de Camville, his son and heir, succeeded him, Nicola, daughter and coheir of Richard de la Haye, and became entitled to a large extent of property in this and other counties. For some opposition to the King, and his disloyal conduct, his estates were seized by the crown, and himself was banished the kingdom. He was, however, afterwards pardoned, and his estates restored upon payment of 2000 marks to the King! Richard his son and heir succeeded his father, and married Eustacia, daughter and heiress of Gilbert Bassett, relict of Thomas de Verdon. In the 16th John, 1215, he had livery of part of his paternal inheritance; and 2 Henry III 1219, he had the whole confirmed to him by the King. The issue of this marriage was an only daughter Idonea, who was married to William Longespée, son of the Earl of Salisbury. Upon the death of her father, 10 Henry III 1226, she succeeded to all his estates; and 15 Henry III 1231, her husband had livery of all those lands which had been held of the honor of Camel in this parish, and in Henstridge by Nicola de la Haye, as belonging to his wife Idonea, by hereditary right.
William de Longspee was the son of is celebrated Ela Countess of Salisbury, who served the office of Sheriff in the County of Wilts for several successive years, being the only female to whom such a public office an active charge had ever before been committed. This William de Longespée was slain in the holy war in Palestine by the Saracens, A.D. 1250, and was succeeded by his son and heir William de Longspee, who had livery of his lands 36 Henry III A.D. 1252. He then married Maude, daughter of Sir Walter Clifford, Knt. with whom he had a marriage portion of twenty-eight pounds eight shillings in two pence, a large sum in those days."
pt. 1. A general history of the county. pt. 2. The parochial history, viz. the hundreds of Norton Ferrers, Bruton, Horethorne, Catsash, and Glastonbury, Rev. W. Phelps author, 1839
At a time when women were normally excluded from exercising any formal role in Royal government, the early 13th century witnessed the unusual appointment of two female sheriffs in England. During the civil war of 1215 to 17, lady Nicholaa de la Haye, the twice-widowed heiress of the Lincolnshire barony of Brattleby, became the crown's leading local official in this County, and conducted a spirited defense of Lincoln Castle. Similarly, at the end of King Henry III's minority, Ela Longspee, the widowed Countess of Salisbury was granted the shrievalty of Wiltshire. Although the appearance of two female sheriffs hardly represented a giant leap forward in the 'monstrous regiment of women', to borrow the later words of John Knox, the extraordinary roles of both Nicholaa and Ela fulfilled within the masculine realm of government office render them worthy of special attention.
English Government in the Thirteenth Century
edited by Adrian Jobson
LINCOLNSHIRE ROLL--
Nichola de la Haye, wife, first of Robert Fitz Erneis, and now of Gerard de Camville, succeeded, on the death of the latter to the Shrievalty of Lincolnshire. The Vicomtesse, as we must needs style her, was the Heroine of her day. Born of the purest Norman blood, with the vast weath and personal influence and the instinct and unquestioning loyalty, she stood by King John in his last extremity. Her daughter, whose marriage seems to have been a subject of much diplomacy, was probably the child of Robert Fitz Erneis.
--Collections for a History of Staffordshire, Volume 2, Staffordshire Record Society, William Salt Archaeological Society, 1881
Nicola married firstly
William fitz Erneis
who died 1178.
By him she had: ?
Sometime before 1185 she married
Gerard de Camville
.
They had at least three children:
1.Richard, who married Eustacia(daughter and heiress of Gilbert Bassett, relict of Thomas de Verdon)
a. Idonea who married William Longspee II
2.Thomas
3.Matilda
4. Nicola/Amabila
Nicola and her granddaughter Idonia weren't the only female sheriffs of Lincoln. Lucy de Taillebois held the office of Sheriff of Lincoln in her own right up to her death in 1136. And she appears to have inherited the right from her ancestress, Lady Godiva. And there are disagreements on whether or not there were two Lucy's. I will be writing a post about these ladies as well.
.